Love sharing how powerful it can be to state and clarify your vision…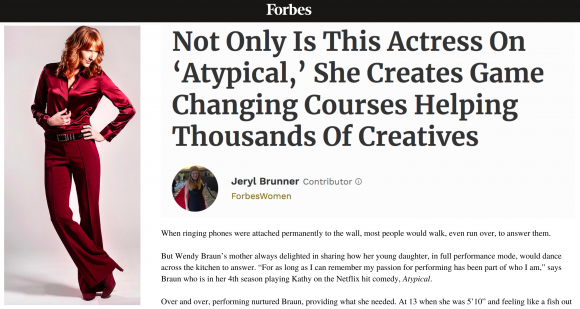 When ringing phones were attached permanently to the wall, most people would walk, even run over, to answer them.
But Wendy Braun's mother always delighted in sharing how her young daughter, in full performance mode, would dance across the kitchen to answer. "For as long as I can remember my passion for performing has been part of who I am," says Braun who is in her 4th season playing Kathy on the Netflix hit comedy, Atypical.
Over and over, performing nurtured Braun, providing what she needed. At 13 when she was 5'10" and feeling like a fish out of water, she was cast as The Scarecrow in The Wiz. She was able to parlay her gangly awkwardness to bring the character to life and entertain. "It was magical," she recalls. "I didn't realize it then but performing at that age saved my soul and made me feel at home at a time when I definitely felt like an outsider."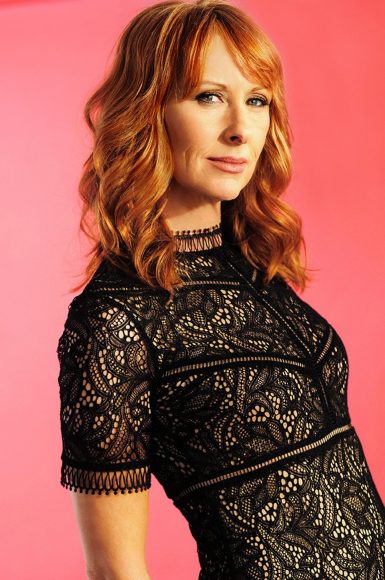 In 1994 she moved from Chicago to Los Angeles to pursue acting. Initially she worked mostly as a dancer. She booked a job performing for three months in Monte Carlo opening for headliners Stevie Wonder, Barry White, Natalie Cole and Earth Wind & Fire.
On the plane ride home she wrote in her journal that she was going to focus all of her energy on acting. She would only return to the South of France if she was in film at the Cannes Film Festival. Three years later she was cast as the lead in a feature film. And it premiered in Cannes.
"I learned how powerful it can be to state and clarify your vision," shares Braun, an accomplished actress whose many credits also includes Grey's Anatomy, It's Always Sunny In Philadelphia and Criminal Minds. "Even if you don't know how it will unfold."